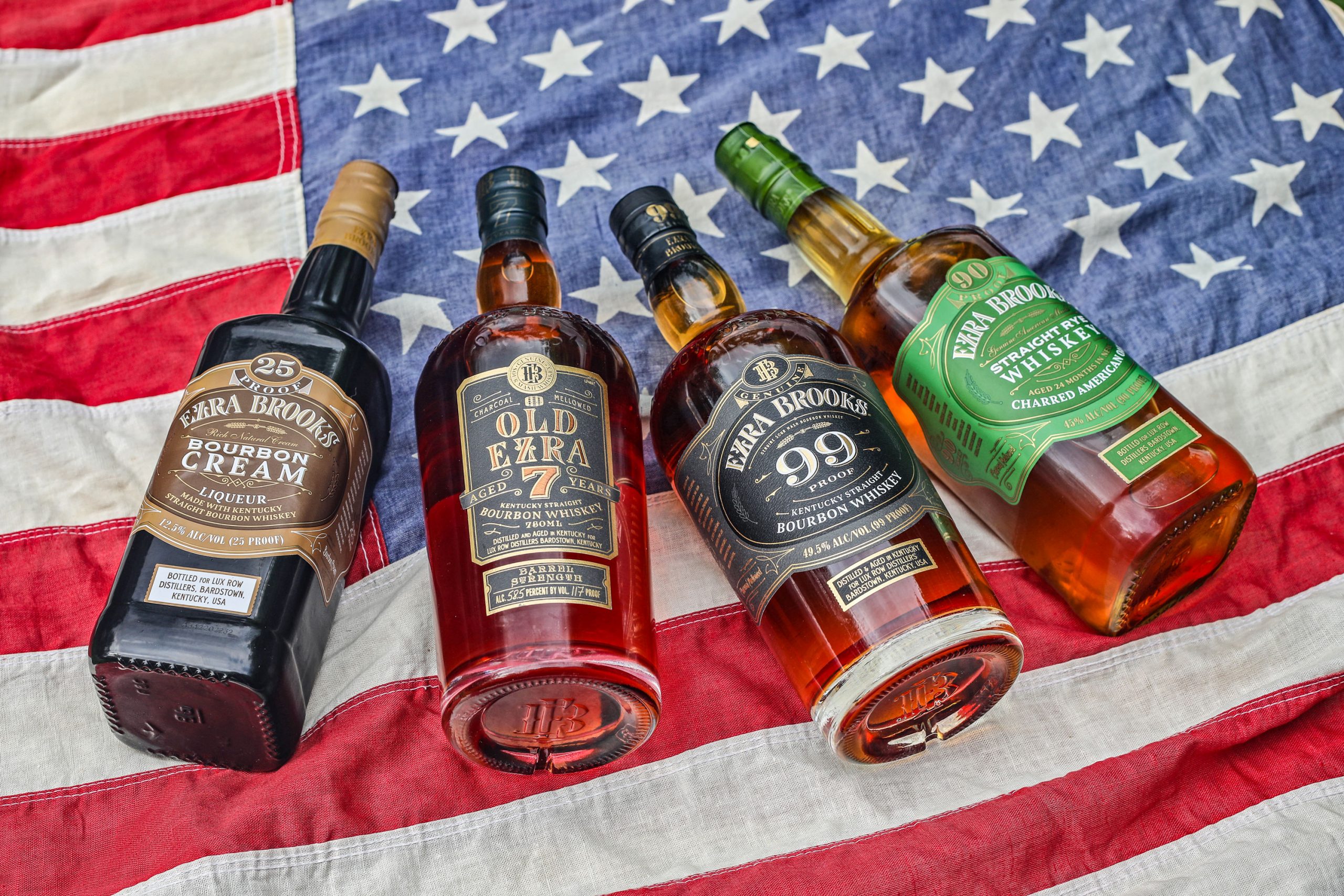 Elevate Your Memorial Day Weekend with Bourbon, Food, and Games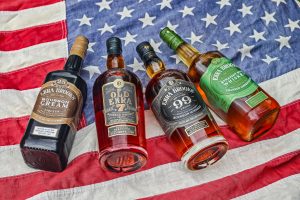 Memorial Day Weekend is all about honoring our country's brave servicemen and women, spending time with friends and family, and welcoming in the warm weather.  
Here at Ezra Brooks, we know a thing or two about how to make the most out of any long weekend. When you pair a few thirst-quenching bourbon cocktails with some delicious grub (and games that will bring out everyone's competitive spirit), your Memorial Day weekend will jump-start the summer in style! 
Read on to learn how to elevate your Memorial Day Weekend with bourbon, food, and games. 
Bourbon 
First thing's first: cocktails! These easy-to-make cocktails are perfect for a crowd—and they're sure to put everyone in a celebratory mood.  
Ezra's Kentucky Lemonade 
What could be more delicious than an ice-cold, fresh-squeezed glass of homemade lemonade? Lemonade that's been spiked with quality bourbon! Adding Ezra 99 to your next pitcher is the perfect way to make everyone's favorite summer beverage even better.  
Ingredients (serves 8): 
2 cups simple syrup 
1 cup fresh-squeezed lemon juice 
2 cups cold water 
2 cups Ezra Brooks 99 Bourbon 
Instructions:  
Combine all ingredients in a large pitcher and stir. Serve chilled over ice.  
99 Peaches Sweet Tea 
The name 99 Peaches not only alludes to the Ezra 99 that makes this cocktail shine but also the prominence of the peach flavor in this refreshing drink. Luckily, you don't actually need 99 peaches, but you might want to make an extra batch to have on hand—this one goes fast!  
Ingredients (serves 8-10): 
2 ripe peaches, chopped 
1 ½ cups sugar 
8 black tea bags  
2 cups Ezra Brooks 99 Bourbon 
9 cups water, divided 
Instructions: 
Combine peaches, sugar, and 1 cup of water in a medium-sized saucepan. Bring to a boil and stir until sugar is dissolved. Reduce heat to medium and simmer for 10 minutes, stirring occasionally. Allow to cool, then transfer mixture to a blender and blend until smooth.  
Bring 3 cups of water to a boil, then turn off the heat and add tea bags. Allow the tea to steep for 10 minutes, then remove tea bags, discard, and allow the tea to cool.  
Combine tea, peach puree, bourbon, and 5 cups of cold water in a large pitcher. Stir to combine and serve over ice. 
Brooks Breeze  
This riff on a cocktail called a Summer Breeze tastes like summer in a glass. In this version, the addition of Ezra Brooks 99 adds complex vanilla notes that pair perfectly with the tangy citrus flavor of the orange liquor. The ginger ale keeps it light and effervescent and makes it the perfect thing to reach for on a beautiful holiday weekend.   
Ingredients (serves 1): 
1 orange slice 
½ ounce triple sec or other orange liqueur 
2 ounces Ezra Brooks 99 Bourbon 
2 ounces ginger ale  
Instructions: 
In a rocks glass, muddle the orange slice. Add remaining ingredients, stir, then fill the glass with ice and serve.  
Food 
These recipes are great for when you want to whip up something a little more unique than hamburgers and hotdogs on the grill (though you can't go wrong with those options, either). Keep your friends and family fueled up for a weekend of fun with these delicious eats.   
Kentucky BBQ Chicken 
Kentucky might be famous for its fried chicken, but the BBQ'd version is equally incredible. Adding bourbon to the sauce amps up the flavor and helps keep your chicken tender.  
Ingredients (serves 4): 
4 tablespoons butter, melted 
3 tablespoons Ezra Brooks 99 Bourbon, divided 
1 tablespoon barbecue seasoning 
4 boneless skinless chicken breasts (1 1/4 lb) 
¼ cup packed brown sugar 
2 tablespoons Dijon mustard 
2 tablespoons tomato paste  
2 teaspoons apple cider vinegar 
1 green onion, thinly sliced  
Instructions:
Mix butter, 2 tablespoons of Ezra Brooks 99, and barbecue seasoning in a large bowl. Add chicken and toss to coat. 
In a separate, small bowl, mix brown sugar, mustard, tomato paste, and vinegar and stir until sugar dissolves. Reserve two tablespoons of sauce for brushing chicken  
Heat charcoal or gas grill to medium heat. Place chicken on grill and cover. Cook for five minutes, then turn and brush with reserved sauce. Cook for 6-9 minutes or until the thickest part of the chicken reaches 165 degrees. Serve with green onions and remaining sauce.  
Whiskey Ginger Caramel Popcorn  
Whiskey and ginger are a classic, unbeatable combination. When you add this match made in heaven to sweet, crunchy popcorn, the result is a snack that's as addictive as it is easy to make. It's reminiscent of a grown-up version of stadium popcorn and is sure to bring back fond memories of watching America's favorite pastime on a warm summer night.   
Ingredients: 
12 cups plain popcorn, popped 
1 cup packed dark brown sugar 
1/2 cup butter, cubed 
1/4 cup honey 
1/4 cup molasses 
1/2 tablespoon fresh ginger 
1 teaspoon ground ginger 
3/4 teaspoon ground cinnamon 
1/2 teaspoon salt 
1/2 teaspoon baking soda 
1 teaspoon vanilla extract 
2 tablespoons Ezra Brooks 99 Bourbon 
Non-stick cooking spray  
Instructions: 
Line two large baking trays with parchment paper and coat with cooking spray. Coat a large bowl with cooking spray, add popcorn and set aside. In a small saucepan, add brown sugar, butter, honey, molasses, ginger, cinnamon, and salt. Bring to a boil while whisking constantly.  
Once the mixture is boiling, stop whisking and allow to boil for 5 minutes. Stir in baking soda (which will foam), vanilla, and bourbon. Pour over popcorn and mix well, working quickly to prevent sticking. Transfer and spread popcorn on the prepared baking sheets. Allow to cool for at least one hour before serving.  
Bourbon Brussels Sprouts   
It never hurts to have a veggie dish on hand to balance out a weekend of holiday indulgence. However, veggies don't have to be boring. In fact, when you add bourbon, you might be surprised to find that these sprouts are the first thing to be polished off at your Memorial Day gathering.  
Ingredients (serves 6-8): 
2 strips applewood smoked bacon 
1 small shallot, thinly sliced 
1 clove garlic, minced 
4 cups brussels sprouts, halved lengthwise 
½ tsp salt 
1 tbsp Ezra Brooks 99 Bourbon  
1 tbsp brown sugar  
Instructions: 
Cook bacon in a cast-iron skillet until cooked through but not crispy. Remove from the pan and crumble. Add brussels sprouts, garlic, and onion to the pan with the remaining bacon fat. Sauté over medium heat for 10 minutes, and turn the broiler on. Then add salt, bourbon, brown sugar, and bacon to the skillet and stir to coat. Transfer pan to oven and broil for 10 minutes or until brussels sprouts are crispy, paying attention not to burn.  
Games  
No Memorial Day weekend would be complete without a little friendly competition. Everything's more fun when a prize is involved, and you can always incentivize a big win with a pour of Ezra Brooks 99.   
Kick-Off the Summer with Kickball 
The best thing about kickball is that the only equipment required is the ball! If you have a backyard, a team of enthusiastic players, and a competitive spirit, you have everything you need for this all-American classic. Plus, this game is a great way to work up your appetite (and your thirst!).  
Get Competitive with Cornhole 
Although this one does require a cornhole board, investing in one is sure to make your backyard the prime destination for Memorial Day gatherings for years to come. If you're feeling crafty, you can even build your own.  
Build Memories with Giant Jenga  
Though there are definitely giant Jenga sets you can buy on the market, making your own is surprisingly easy. All you need are some 2 x 4s, sandpaper, and a saw. Don't forget to sand down each board before playing to avoid splinters!   
Make Memorial Day Unforgettable with Ezra Brooks  
With these great cocktails, dishes, and games, everyone will be raving about your Memorial Day celebration all summer long. We can't wait for you to impress your friends and family and enjoy the incredible taste of Ezra Brooks 99.  
Find our products at a location near you to stock up for the weekend.