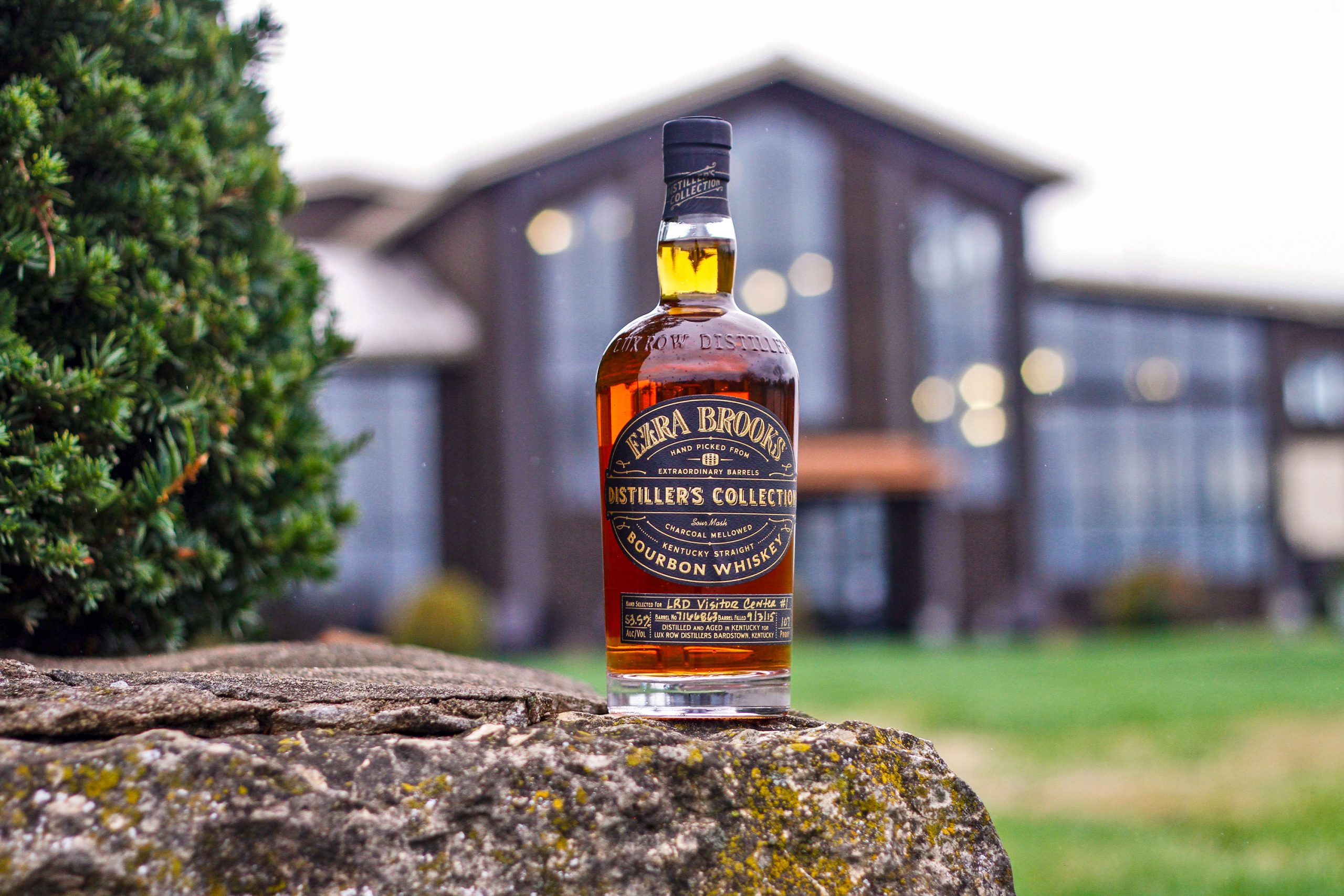 What is a Distiller's Collection Bourbon and How is it Developed?
Take a look around the shelves at your favorite spirit retailer or distillery visitor center, and you're bound to find a few bourbons labeled "Ezra Brooks Distiller's Collection." These bourbons are highly sought after due to their limited supplies and uniqueness.  
In this article, we discuss what exactly a "Distiller's Collection" Bourbon is, how they are developed, and where you can get your hands on these awesome bottles that are likely never to be produced precisely the same again.  
How the Process Begins 
At Lux Row Distillers, a new Distiller's Collection Bourbon comes out every couple of weeks, (as demand supports it). The bourbon profile begins with choosing a cask-strength single barrel and is hand-selected by either a Barrel Ambassador, distillery employee, or Master Distiller John Rempe. Taste is king in these selections, which is why these collections are truly one-of-a-kind.  
Each single barrel pick is chosen from Ezra Brooks or Rebel Bourbon, and on average, one batch will produce 30-40 cases containing 6 bottles in each case.    
How do employees get this honor? At Lux Row Distillers, the Barrel Ambassadors keep an ongoing list to ensure that every employee gets a chance to create their own bourbon and that there is plenty of diversity for customers.  
How Does Taste Play a Role? 
The Barrel Ambassadors will pull 3 samples of Lux Row Distillers rye bourbon (Ezra Brooks) or wheat bourbon (Rebel Bourbon) from select barrels in various warehouses. Each barrel offers a unique flavor profile based on how long and where they have been aged. With the different barrel options and unique tastes of the person selecting, each Distiller's Collection bourbon can end up quite diverse from a typical bottle of Ezra or Rebel.  
During the tasting, water is added to each sample by the taster to ensure it is proofed down from barrel strength to the proof it will be bottled at. Ezra Brooks Distiller's Collection is bottled at 107 proof, while Rebel Bourbon Distiller's Collection is bottled at 113 proof. 
What Happens Once the Tasting is Complete? 
Once the pick has been made, the barrel is sent to a Luxco bottling facility. There it will be processed, bottled, then labeled with the selector's signature on it. Then, it's stored until it's put on the visitor center shelves. The empty barrel is given to the employee who made the pick as a souvenir.  
Can Anyone Get a Chance to Make Barrel Picks? 
Lux Row Distillers offers this service to the public as well! When someone is interested in choosing their own Distiller's Collection single barrel as part of the Barrel Ambassador Program, they receive a kit in the mail containing three samples and instructions on how to proof their samples with water before making their final selections. Then, they are invited to visit the distillery to finish their selections in person before having their barrel bottled and labeled. You can find these bottles on shelves at your favorite spirit retailer, often labeled as store picks.  
Are There Any Distiller's Collection Bourbons that Stand Out Recently  
In speaking with Mike Hood, Distillery Ambassador at Lux Row Distillers, he mentioned that two recent bourbons stood out the most to him: 
"The first was Ezra Brooks Distiller's Collection- KBT Unlock #3. This was a visitor center pick done by John Rempe, our Master Distiller. It had a smoky char on the nose that Ezra Brooks is known for, with a layer of sweetness in it. The palate was caramel forward and blended with a char flavor that created the taste of toasted marshmallows. The finish was light with char and pepper notes. The second was a Rebel Bourbon Distiller's Collection chosen by Justin Fogle, one of our Barrel Ambassadors. The nose was floral and full of honey, creating the aroma of honeysuckles. The big stand out for it was the oily mouth feel that coated the tongue with honey flavor and hints of baking spices. The finish was smooth, which can be expected when drinking a wheat bourbon." 
Where Can You Find a Distiller's Collection Bourbon? 
Distiller's Collections are available at retailers that have purchased one of the single barrels through the Lux Row Distillers' Barrel Program. Your best bet is to call your local retailer to see if they did a barrel pick with Lux Row. But if you want some of the unique barrel picks done by the knowledgeable staff, you'll have to visit the Lux Row Distillers visitor center, where they are sold exclusively.   
Interested in finding a one-of-a-kind bourbon near you? Speak to your local retailer or visit the distillery in the heart of Bardstown, Kentucky.    
A special thanks to Distillery Ambassador Mike Hood and the team at Lux Row Distillers for contributions to this article.