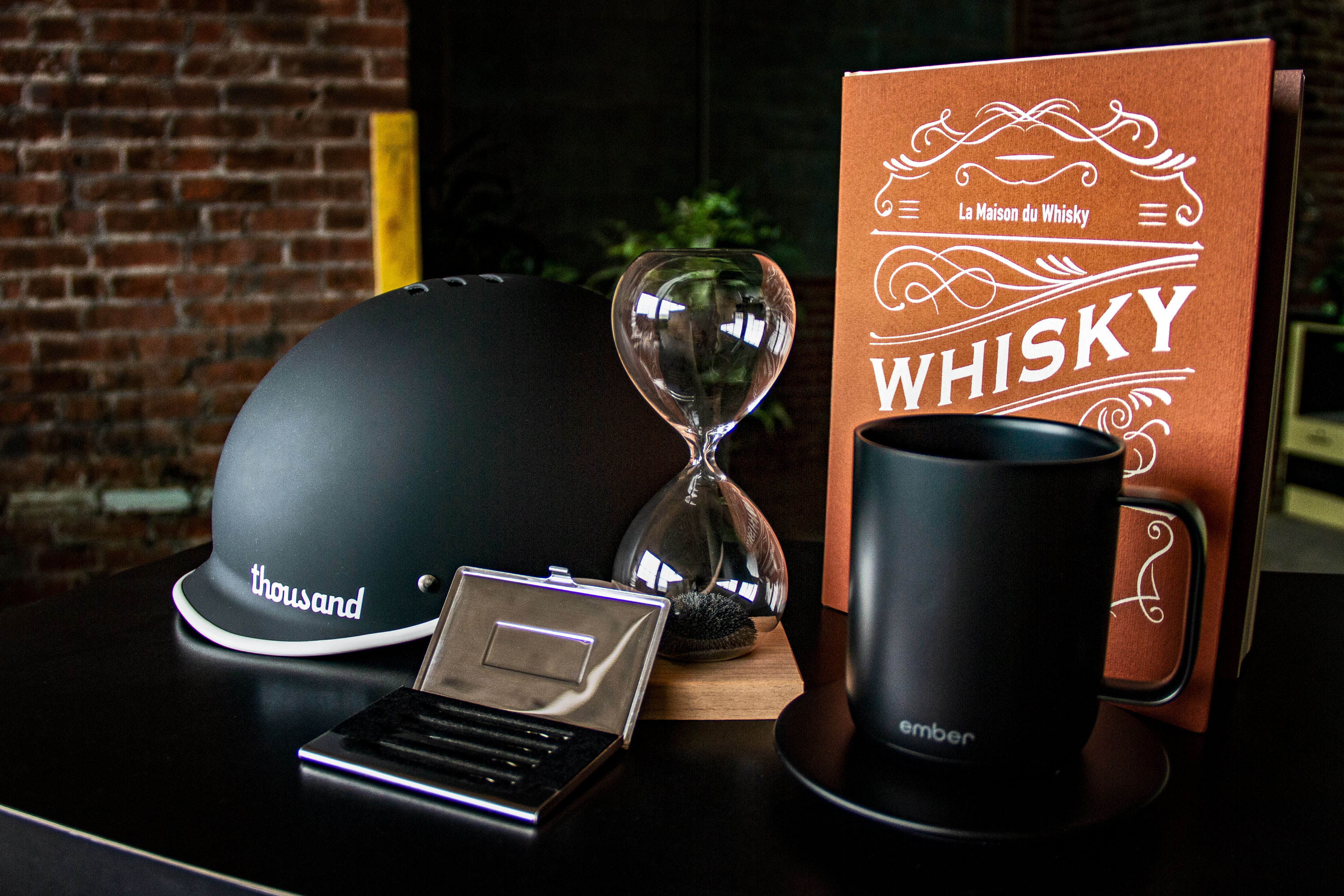 A Holiday Gift Guide for the Modern Gentleman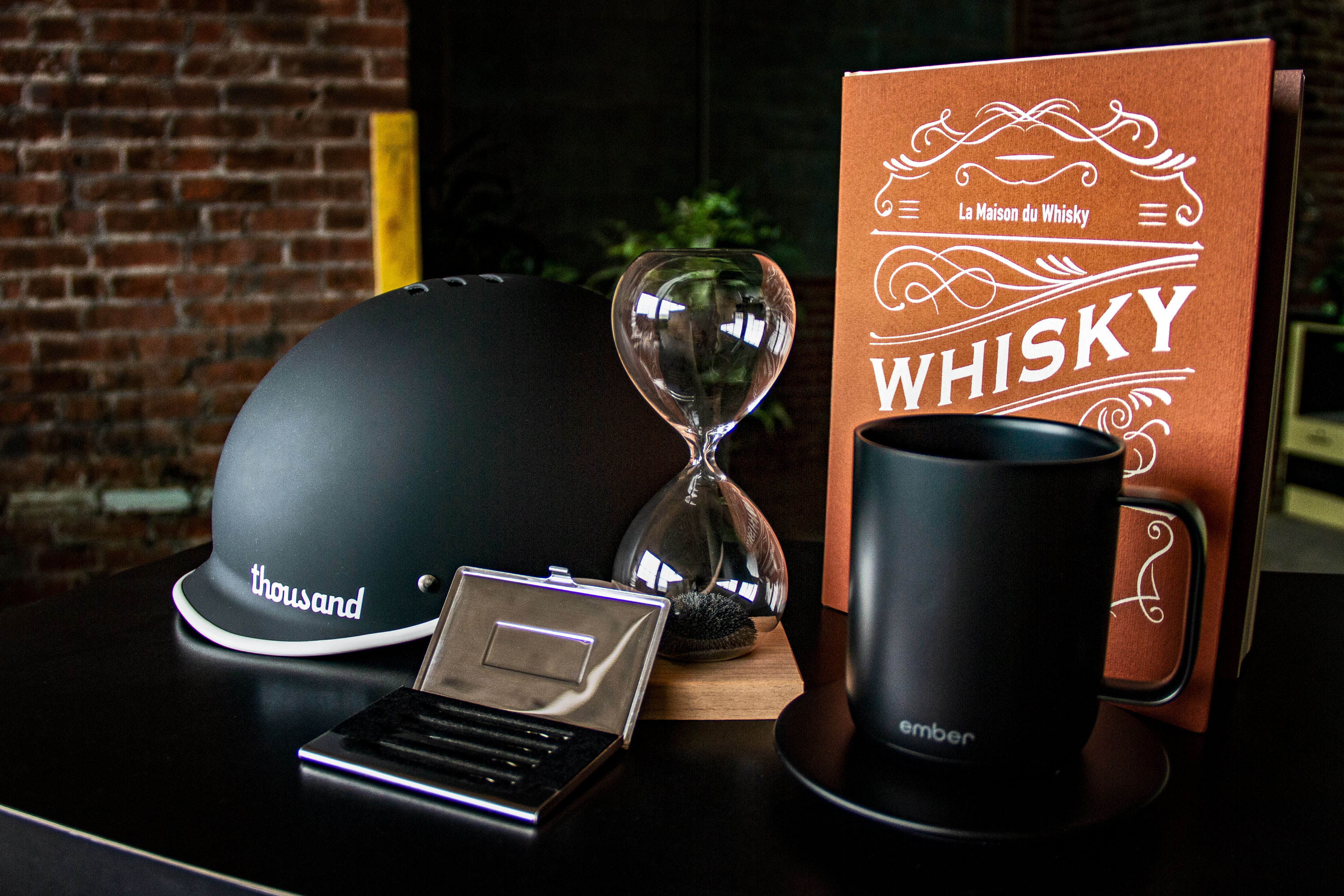 The modern gentleman is authentic, sophisticated, and stylish. He also possesses impeccable manners. Although these are wonderful qualities to have, they also make him nearly impossible to shop for.
But there are a few unique gifts out there that he will not only appreciate, but also cherish.
Infused Ice Cubes
These freezer-ready cocktail kits from Herb & Lou's mean he'll always have the right ingredients on hand for an old fashioned. (Just add Old Ezra Barrel Strength.) Blood orange and ginger combine for an elevated take on the classic recipe.
Multi-Tool Collar Stays
He'll feel like James Bond every time he whips out one of these handy fashion pieces. Made of indestructible titanium, the collar stays not only keep an outfit looking sharp, but they can also double as a thread trimmer, bottle opener, and two kinds of screwdrivers.
Personalized Leather Valet Tray
Help him keep a tidy home by providing a place where he can stash everything as soon as he walks through the door. Keys, wallet, phone, and loose change all have a snazzy place to live in this tray made of full-grain leather and studded with brass rivets. If he ever needs it to, it can unsnap and fold flat too.
The Whiskey Connoisseur's Journal
Whiskey experts can track their many tastings while novice imbibers can learn about whiskey in this hardcover journal. The book is divided into five sections: useful tips for whiskey drinking; a timeline and history of the libation; a comprehensive list of the world's finest whiskeys; and 100 journal pages for personal reviews, with pre-labeled boxes for noting age, proof, origin, and barrel type.
Custom Pillowcases
Perhaps he already has a fine set of linens, but it never hurts to have an extra set of pillowcases on hand. Bonus points for monograms and personalization, which Hill House Home includes at no extra charge.
Ember Ceramic Mug
It's easy to keep bourbon at the correct temperature; it's either neat or on the rocks. But if he needs some help keeping his coffee hot in the morning, that's where this smart mug comes in. The Ember app alerts drinkers when their beverage has reached the correct temp, and there are even program pre-sets for different drinks. Or simply warm up the Ezra Brooks way and splash a bit of Kentucky straight bourbon into the mug.
Heritage Collection Bicycle Helmet
Urban cyclists can now stay safe and look stylish while doing it with a matte helmet that's reminiscent of '50s and '60s moto style. A hidden pop lock lets him leave his helmet with his bike, while a magnetic fastener and low-profile visor help him get on his way quickly. The helmet has two sets of interior padding, and it's CPSC and EN 1078 safety certified.
Magnetic Hourglass
This hourglass is a truly fun way to count down until happy hour. Ferrous sand combined with hidden magnets creates a mound of stalagmites atop an elegant wooden base. Each turn equals one minute, but it's so much fun to watch that he'll want to keep flipping it.