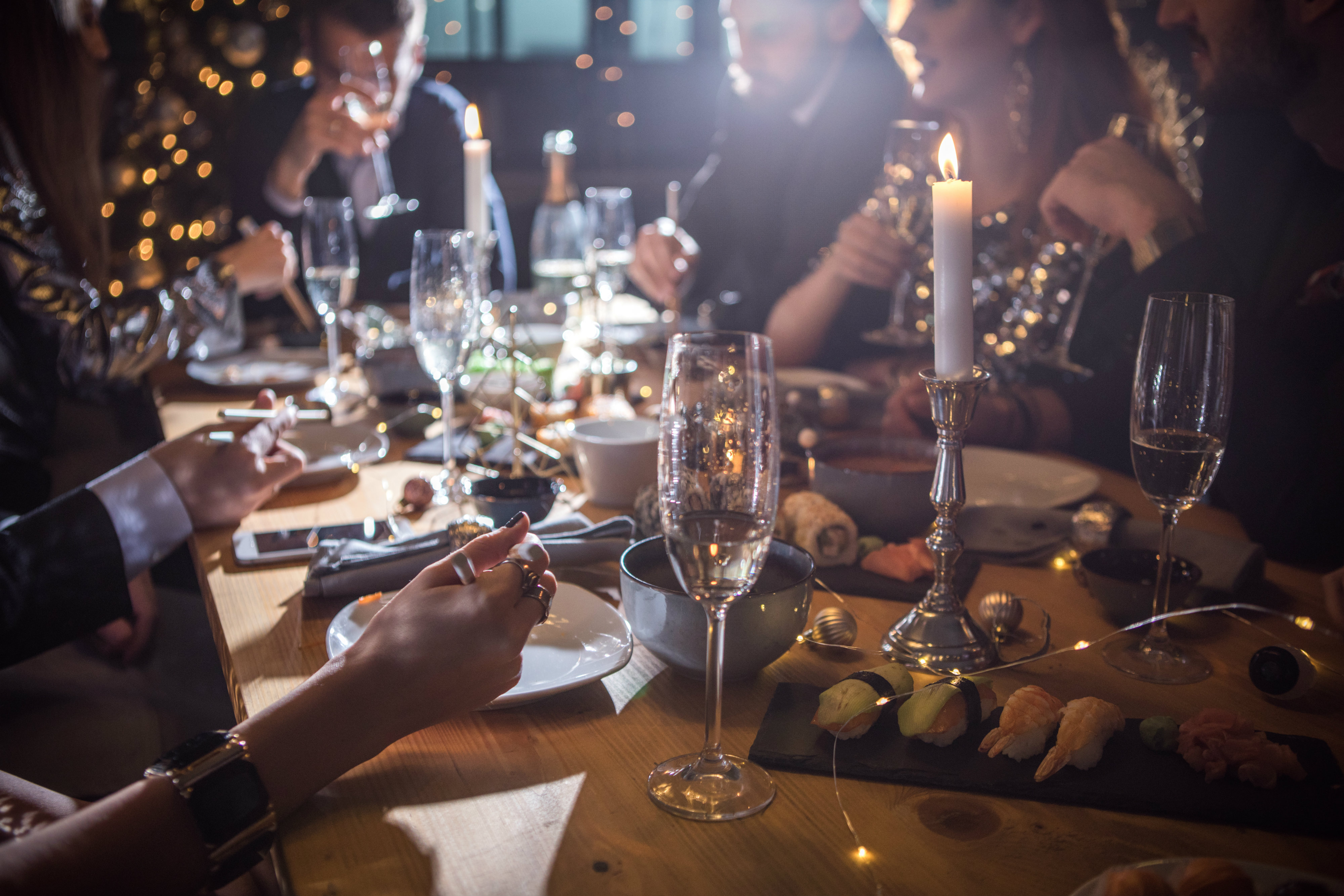 The Modern Man's Holiday Etiquette Guide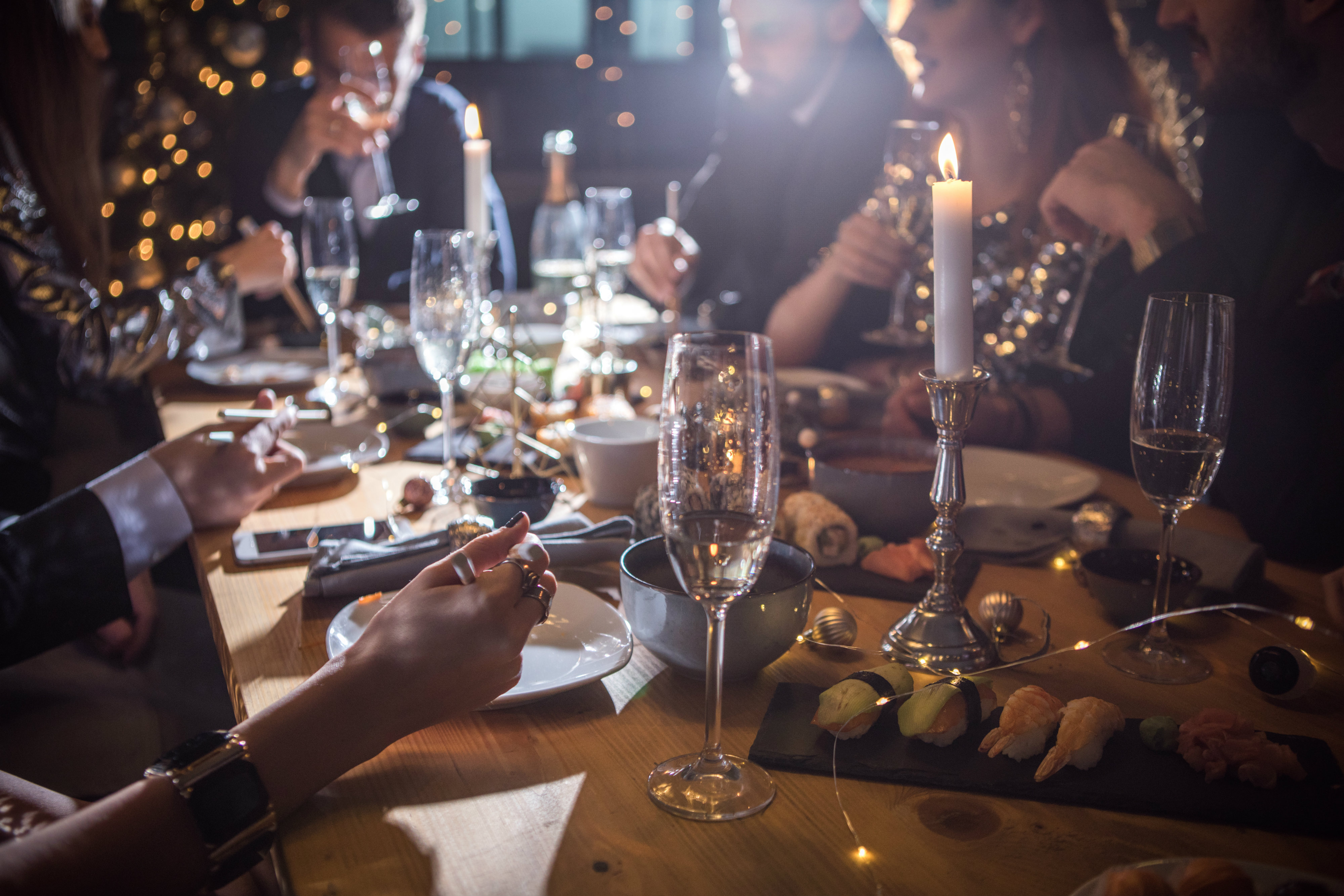 You're staring down the gauntlet of holiday party invites, from work and charity shindigs to friend gatherings to maybe even a fancy dinner or two.
How can you be the guest that everyone wants on their list? Let us help.
Dress Codes
Fashion can be a mine field, especially during the holidays, so brush up on the most common dress codes to avoid a sartorial snafu:
"Cocktail attire" doesn't mean show up with an old-fashioned in your hand (though we'll get to host gifts later). It means wear a suit; a tie is optional.
"Holiday festive" gives you permission to wear a tie covered in dancing Santas or your dreidel socks. But avoid going full ugly sweater, unless that's the gathering's official theme.
A good rule of thumb for "business casual" is slacks or dress pants and a shirt with a collar. "Casual" means informal but still polished, i.e., take care not to have stains or tears.
If you're fancy enough to receive an invite labeled "black tie," then break out the tux or rent one. You won't want to be underdressed.
Host Gifts
It used to be that you didn't turn up at anyone's door without a bottle of wine or a bouquet of flowers. Although today's social gatherings tend to be less formal, it's still a good idea to come bearing a gift, especially if you're visiting someone's home for the first time.
Smaller sit-down dinner parties generally warrant a small trinket, as do housewarmings. And if you're in for an extended visit, you definitely want to show your hosts some gratitude. Our list of ideas:
A bottle of Ezra Brooks or wine, depending on your host's preference
A specialty food item or dessert, such as artisanal cheese or chocolate
A houseplant, which has a longer shelf life than flowers (extra points if it comes in an interesting container)
Something small for the home, such as a scented candle or guest soap
An item to use while entertaining, such as leather coasters
RSVP vs. Regrets Only
Even in today's modern age of evites and Facebook events, it's considerate to let your hosts know if you plan on turning up. They want to make sure there's enough good cheer to go around, so respond with the good news as soon as you're certain of your plans.
If you don't reply? They will probably still plan on your being there. Unless they've requested "regrets only," most hosts will take your silence as a yes, and order enough food and drink to cover your presence. If you know you can't go, do them a favor and let them know too.
When to Arrive
For some, fashionably late is a lifestyle. Others thrive on arriving right on time. Parties, however, have their own rules for the clock.
If someone is hosting a sit-down dinner, respect the timeline by showing up when requested. If it's a more informal gathering held at a public space (such as a restaurant or bar) or someone's house, it's perfectly fine to be 15 minutes late. Your host might even be counting on it, and a little extra time to dress or add any finishing touches could be greatly appreciated.
Bringing a Guest
It's no fun to work the room by yourself, and any thoughtful host will try to build in a plus-one if possible. But circumstances might not always allow you to bring a guest, and if your invitation specifically does not indicate one, then you should assume you're flying solo.
Of course, you can always ask. Your host will appreciate your double-checking, rather than just showing up with unexpected extra person.
Sending a Thank-You
A personal expression of your gratitude is appreciated (and often expected) after a cozy get-together like a sit-down dinner. If your boss is hosting the company party at his or her own home, then it'll only improve your rep to send your best wishes a day or two after.
If it was just a friend's come-and-go party or the widely attended end-of-year mixer for your social group, then it's fine to skip the note. Your presence was present enough.