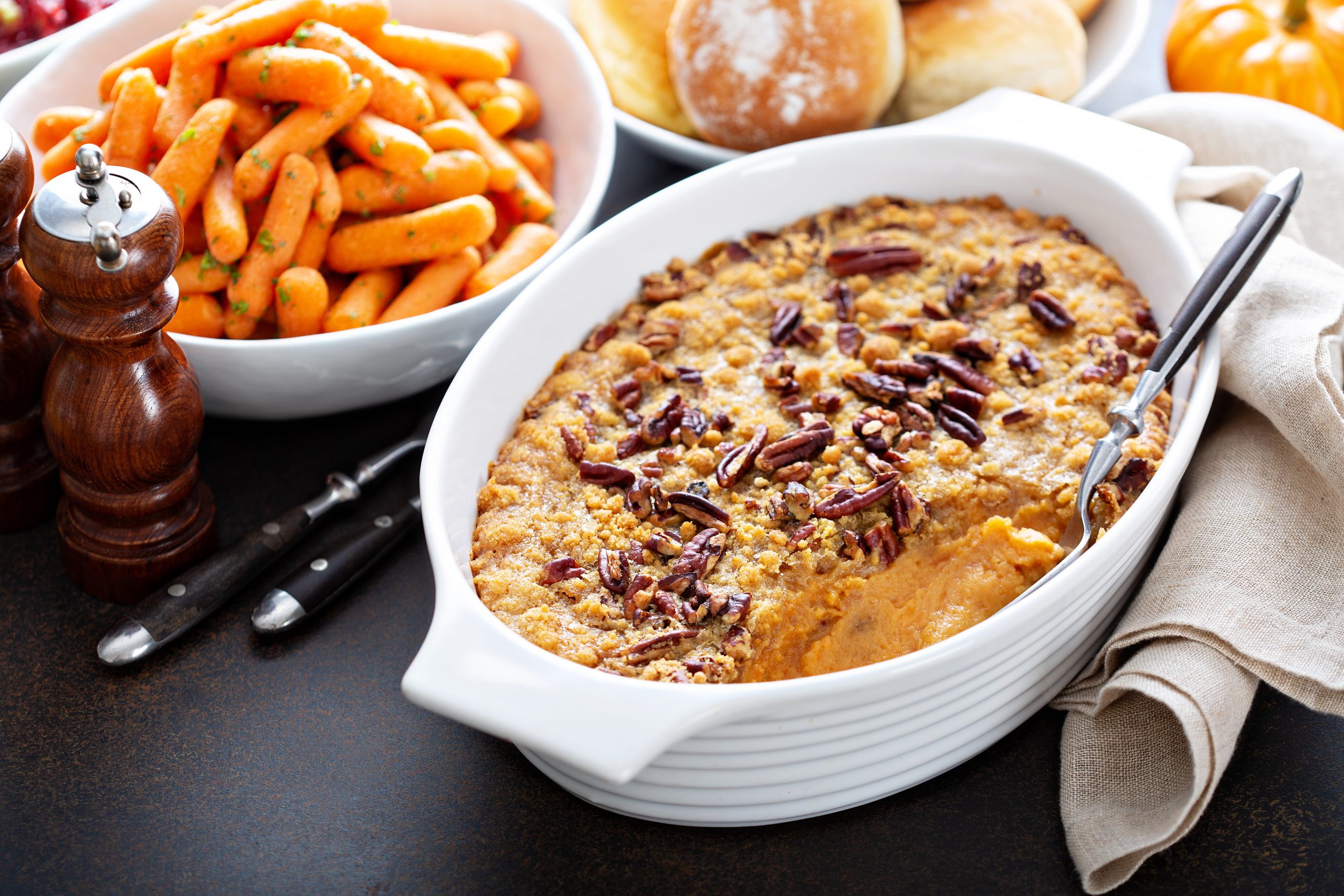 3 Tasty Bourbon-Infused Holiday Side Dishes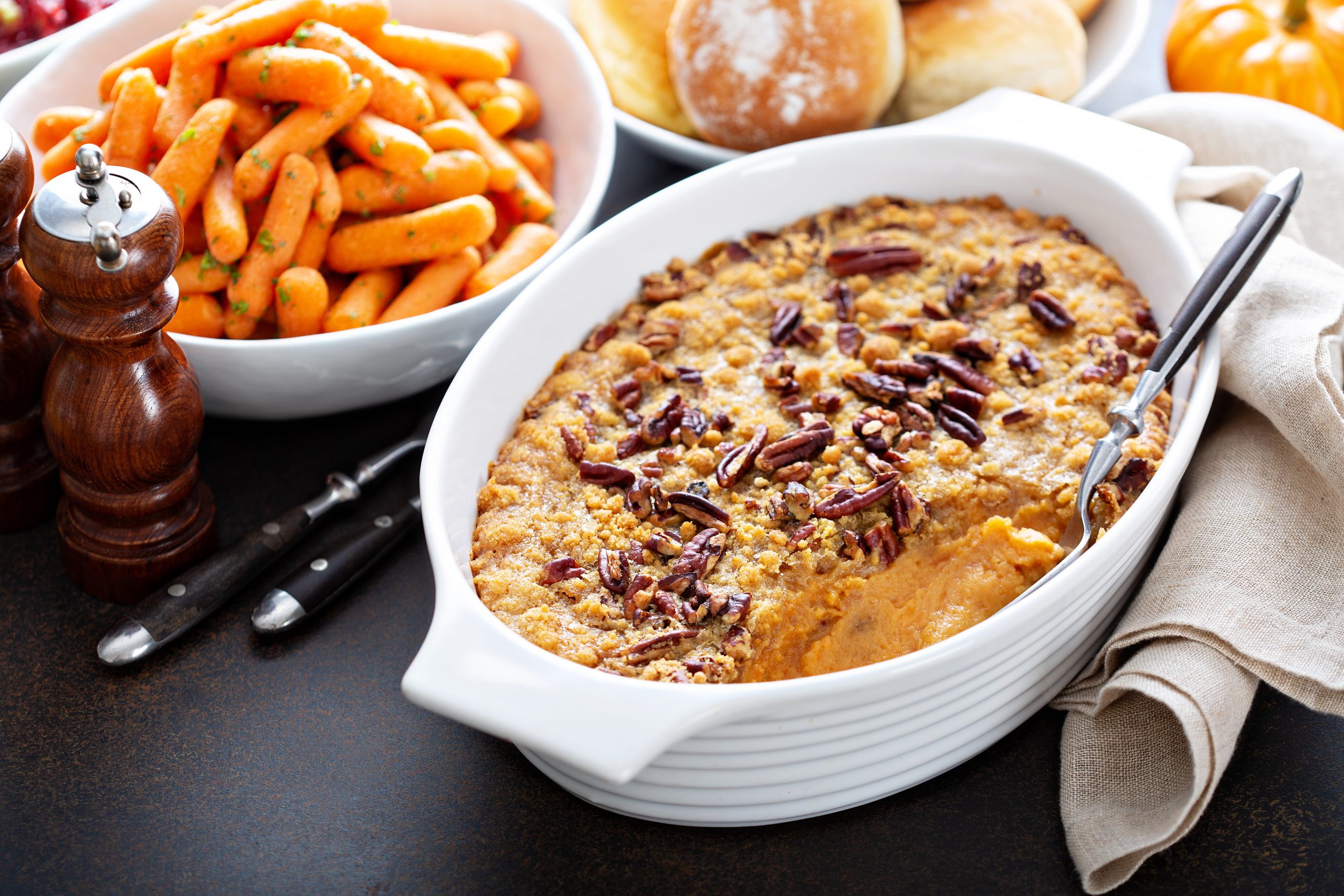 Ezra Brooks bourbon is ready to brighten the holidays, whether in a festive cocktail, a shot of rye neat, or an after-dinner pour of Sweet Bourbon Cream.
Bourbon makes for a great ingredient to cook with, too, especially wintery foods. Its sweet, mildly smoky presence has an inherent cozy vibe that pairs well with woody, earthy, spicy flavors.
Put Ezra on the table in these three classic side dishes, all enhanced by a complementary touch of bourbon.
Bourbon-Glazed Carrots
(serves 2-3) 
Carrots happen to be one of the most versatile vegetables in the vegetable kingdom: equally good raw, cooked, and even juiced.
They're also one of the most common vegetables, usually available year-round and consumed by all.
Which is why partnering them with bourbon is such a stroke of genius. Gilding them with a glossy bourbon glaze elevates them, transforming them from the everyday into special occasion.
This is also a simple and easy recipe to execute and something that can hold and stay warm while you do other things.
Ingredients
3 tablespoons butter
1 pound of baby carrots
1/4 cup bourbon
1/4 cup brown sugar
1/4 teaspoon salt
1/2 teaspoon black pepper
1 pinch of cayenne pepper (optional)
1 pinch of nutmeg (optional)
Heat butter in skillet over medium-high heat and saute carrots for 6-8 minutes, stirring. Sprinkle with salt.
Reduce heat to low. Add bourbon and stir for 2 more minutes. Add brown sugar and stir for 2 minutes until sugar is dissolved.
Turn heat to medium-high and stir for 1 minute to reduce the glaze.
Grind fresh black pepper, and sprinkle with cayenne pepper and nutmeg.
Mushrooms in Bourbon Sauce
(serves 4 to 6)
Mushrooms have two superb traits: their wonderfully meaty texture and their magical ability to absorb and then magnify the flavor of other ingredients they're cooked with. When that other ingredient is bourbon, it doesn't get much better.
Ingredients
1 pound of mushrooms, sliced
2 tablespoons butter
2 cloves garlic, minced
1 small onion, diced
1/4 cup soy sauce
1/4 cup bourbon
1/4 cup apple cider vinegar
1/4 cup ketchup
1/2 cup brown sugar
1 tablespoon corn starch
1/3 cup water
In large skillet, saute mushrooms in butter over medium heat for about 3 minutes. Push to side of pan and add onion; saute 2 minutes, then add garlic and saute 1 minute more. Add soy sauce, bourbon, apple cider vinegar, kechup, and brown sugar. Simmer for 5 minutes over medium-low heat, stirring occasionally. In a bowl, combine corn starch and water and stir until dissolved. Add to pan and heat until thickened, about 2 minutes.
One of the most decadent side dishes on the holiday table is creamed corn, which combines bright fresh corn kernels in a rich cream-laden sauce. A dose of bourbon makes it more decadent still. And given the fact that the main ingredient in bourbon is corn, it seems fitting to pair them up.
Bourbon Sweet Potato Mash
(serves 4 to 6)
Sweet potatoes are a holiday staple, especially in the South. Eaten plain, they're a pleasure, with a texture that's super creamy and rich. Add bourbon, molasses, and a sprinkle of pecans, and they become downright sultry.
Ingredients
4 medium sweet potatoes
1/3 cup butter
1/4 cup bourbon
1/4 cup brown sugar
1 tablespoon molasses
1/4 teaspoon cinnamon
1/4 cup chopped toasted pecans
Salt and pepper
Bake or microwave sweet potatoes until soft. Cool slightly to touch, remove and discard skins.
Heat butter in a small saucepan with brown sugar, bourbon, molasses, and cinnamon and stir for a minute until blended. Pour over sweet potato and mash until mostly smooth; it's okay to leave a few bumps. Salt and pepper to taste, and sprinkle with chopped pecans.