The Modern Man's Guide to Labor Day Party Greatness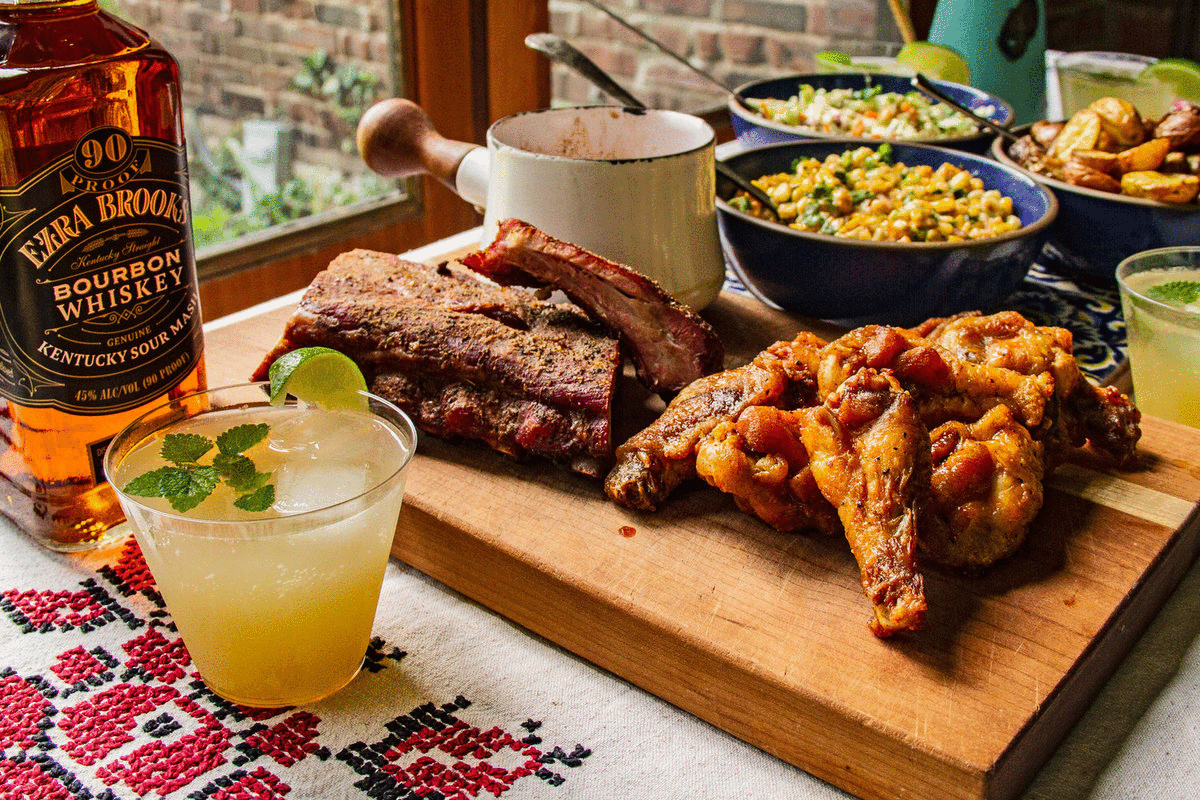 Some of life's best memories come from sitting down and breaking bread together. With Labor Day on the horizon, it's time to make one more memory, with a bourbon-infused summer send-off executed in grand Ezra Brooks style.
A little food, a little drink, some close friends — as long as you have Ezra Brooks bourbon on hand, you have all the ingredients of a summer sayonara you won't forget.
Greet your guests with a refreshing Ezra Brooks "bourbojito" — a bourbon twist on the classic mojito, combining Ezra Brooks bourbon whiskey with lime, fresh mint leaves, and a splash of fizzy water such as Topo Chico.
For an easy centerpiece, bake a combo of pork ribs and chicken drumettes, mopped in an addictive sweet-and-hot glaze containing Ezra Brooks bourbon whiskey, Sriracha sauce, and peach chutney. Baking low and slow (300 degrees F) in a regular oven is the ideal approach: Pop it in a couple of hours ahead of time, mop once or twice with your glaze during baking, and — ta-da — it's ready to roll when the party begins.
As for your side dishes, stick to your wistful end-of-summer theme. Instead of potato salad, whip up some tasty roasted potatoes, chopped into bite-size chunks, tossed in olive oil, and seasoned aggressively with roughly cracked pepper and crunchy kosher salt. Don't be shy: Bake until they acquire a wonderfully crunchy, browned crust.
Bypass messy corn on the cob for esquites, the Mexican corn salad with corn cut straight from the cob and quick sautéed, then slathered in a spicy mix of mayonnaise, cojita cheese, chili powder, and optional perks such as diced jalapeño and fresh cilantro.
Be sure to include a fresh and simple raw dish like coleslaw, made with finely shredded green and purple cabbage for color, along with grated carrot and a pinch of diced red onion. Rather than regular old mayo, toss the slaw in one of the newfangled ranch dressings on the market; we love the ones flavored with chipotle.
There's no better ending than a bittersweet toast to the season with Ezra Brooks bourbon cream, made with real Kentucky straight bourbon. Its intoxicating blend of butterscotch, vanilla, and milk chocolate on the palate is as rich and satisfying as any 4-star dessert.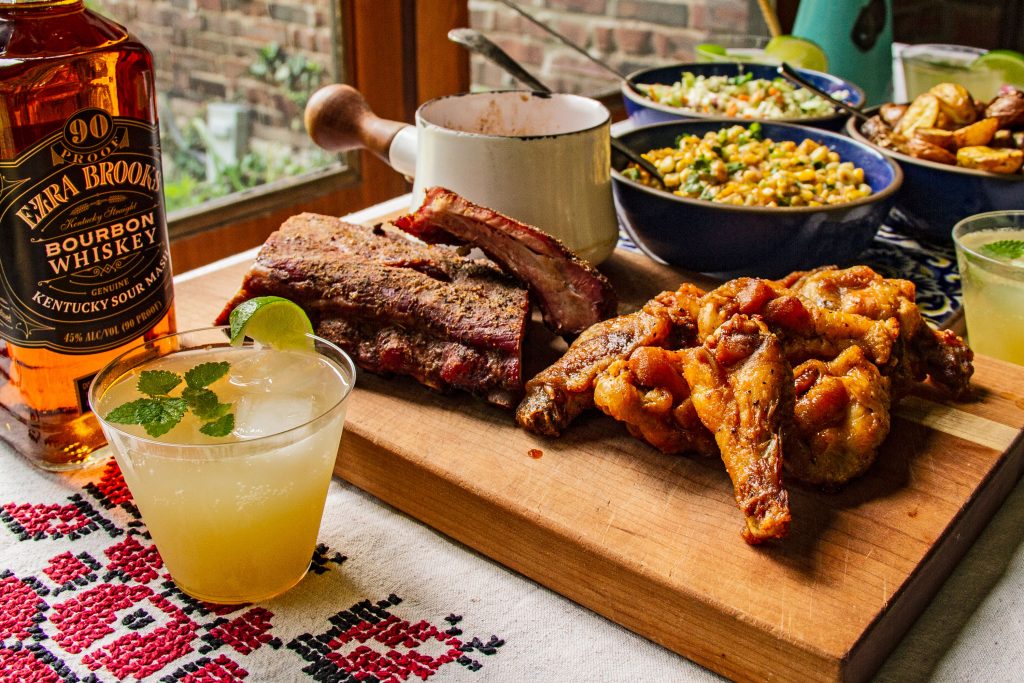 Ezra Brooks Whiskey Glaze
Yields: 3 cups
Use Ezra Brooks whiskey glaze as a mop for your favorite barbecue pork or chicken recipe.
Ingredients
1 cup peach chutney (such as Mrs. Balls)
2 6-ounce cans tomato paste
¼ cup good quality apple cider vinegar (such as Bragg's)
2 tablespoons liquid aminos (such as Bragg's, or substitute soy sauce)
2 tablespoons brown sugar
1 teaspoon salt
1 teaspoon chili flakes
1 tablespoon Sriracha
½ cup Ezra Brooks Bourbon Whiskey
Instructions
Add all of the ingredients to a stainless or enameled pot. Stir together and bring to a simmer. Remove from heat and cool.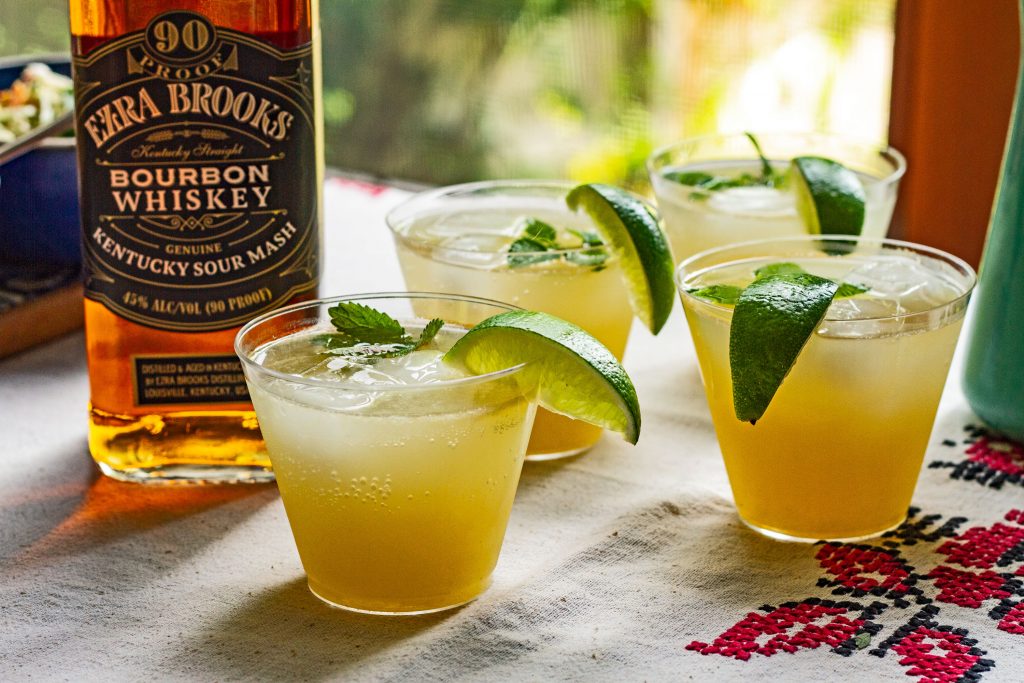 Ezra Brooks Bourbojito
Yields: 4 drinks
6 ounces Ezra Brooks Bourbon Whiskey
12 mint sprigs, 8 torn and 4 saved for garnish
6 tablespoons frozen lime juice concentrate
Chilled sparkling mineral water
4 lime slices
Fill cocktail shaker with ice. Add whiskey, torn mint, and lime juice concentrate; shake until blended. Strain over fresh ice in a highball glass. Top with a splash of sparkling water. Garnish with a mint sprig and a lime slice.