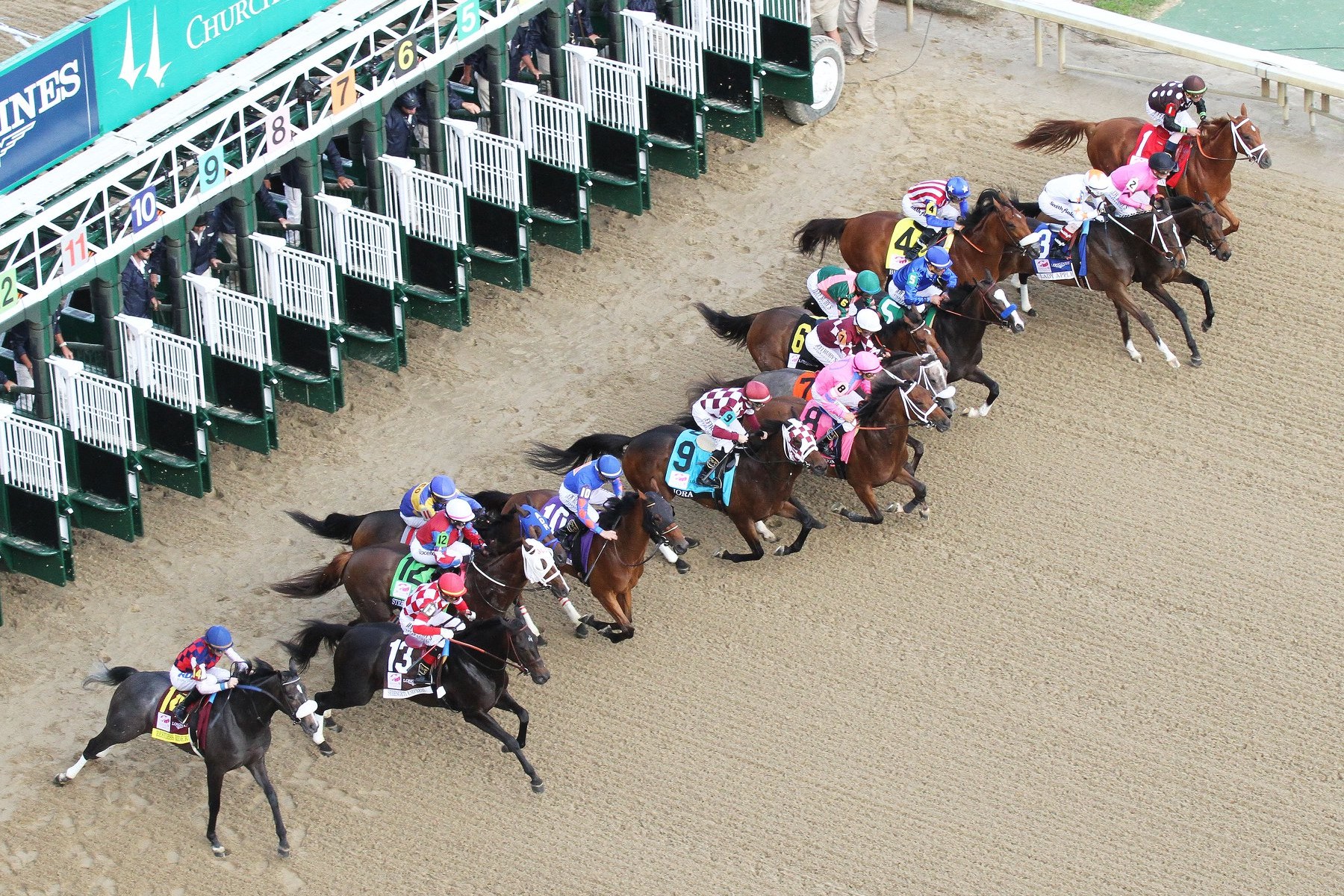 Win-Place-Show: Here's How to Lay Down a Derby Bet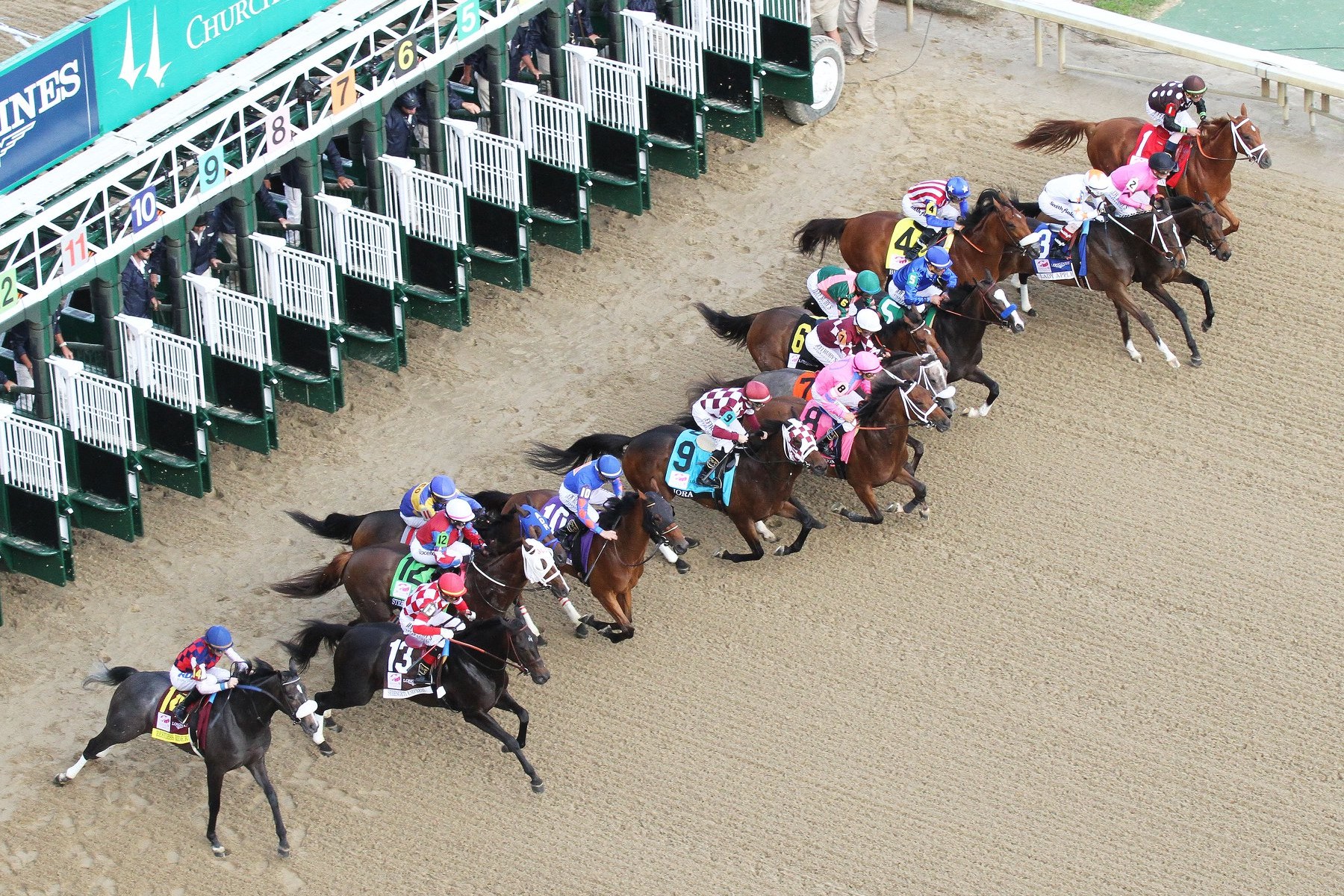 In the topsy-turvy world of COVID-19, the 2020 Triple Crown of horse racing — the Kentucky Derby, the Preakness, and the Belmont Stakes — has been turned on its head. The traditional last leg of the three, the Belmont Stakes, was run first on June 20. And the Derby is now being held on September 5, and the Preakness Stakes on October 3.
As of now, spectators will be allowed at the latter two races — and the mutuel teller's window will be open for betting at the Derby. If you're not one for crowds though (and who could blame you these days), the Churchill Downs track has a perfectly legal online betting window at TwinSpires.com, complete with a $100 sign-up bonus.
Either way, we're sure you'll be looking your best and feeling lucky. But if you need some pointers about how to lay down a bet without feeling like a rube, here are the basics.
Win-Place-Show
You can always bet more cash, of course, but for a mere $2 minimum, you're in the race. The most basic bets, called straight wagers, are Win, Place, or Show. You only cash in on a Win bet if your horse crosses the finish line first, but this is the largest payout of the three. You'll get a little less with a Place bet if your choice finishes first or second, and lower still for Show, for a first, second, or third place finish.
Across the Board
A $6 (or multiples thereof) Win, Place, and Show bet on one horse. If your horse wins, you pocket each of the Win, Place, and Show payouts. If your contender finishes second, you still earn the Place and Show monies. The nag finished third? You might, but probably won't, make back the $6 with the Show payout.
Exacta
One of the most popular of the so-called exotic wagers, which have higher payouts than straight wagers because they're tougher to win. To cash in a $2 exacta bet you have to pick the No. 1 and No. 2 finishers, in that order. A variation is the Quinella, correctly picking the first two finishers in either order.
Trifecta
Like the Exacta, but this time you have to pick the top three finishers in the correct order. No easy task, but most tracks now allow for 50-cent minimum Trifecta bets. For $3 you can "box" your wager, meaning your three horses can finish in any 1-2-3 order.
There are other ways of "boxing" or "wheeling" Trifecta bets with more horses, increasing your wager but also your chances of winning. But, like other available exotic bets, it's better to ease into them after you have the basics down. Trot first, then gallop.
Odds and Strategy
A horse going off at odds of 2-1 will have a lower payout than a horse going off at odds of, say, 10-1. But a horse with 2-1 odds probably has a better chance to win. The odds are affected by a variety of factors, from a horse's record to the wagering itself, and they can change right up to the point that betting is cut off for a particular race.
Racing forms and tout sheets take all sorts of factors into consideration to suggest who the favorites might be — track conditions, length of the race, the horse's trainer, or what jockey is on the mount and so on. But, naturally, anything can happen in any particular race.
Actually, the best strategy for a first-time bettor is not to worry about a strategy. Pick a horse because you like its name or number or colors. Just have fun and don't bet the farm.
At the Window
If you actually make it to the track, you can hand a mutuel teller a filled-out slip with your wager on it. But it's more fun to do it verbally. Since most tracks allow betting on races going on at other tracks (as does TwinSpires.com), that's the first thing you'll need to mention. Then say the race number, the amount of the bet, the type of the bet, and the program number or numbers of the horse(s) in question.
For example, once at the window with cash in hand, say, "Churchill Downs, Race 9, $2 Exacta on #4 and #7."
You'll be handed a betting ticket which you should try not to lose. You'll need it later, after the excitement of the race, to either tear up for confetti, or to trade in for crisp cool cash.