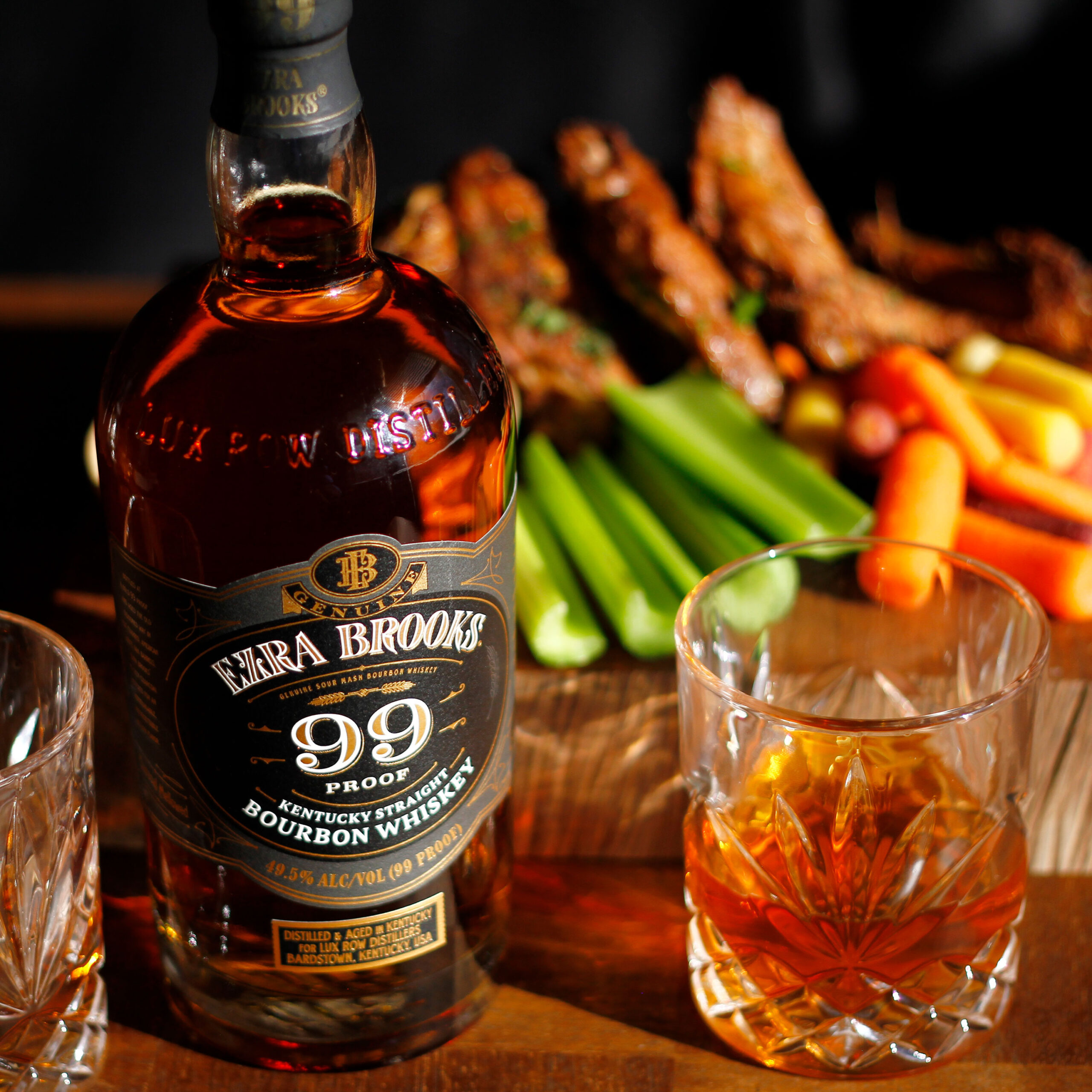 How to Pair Bourbon Whiskey With Your Favorite Gameday Foods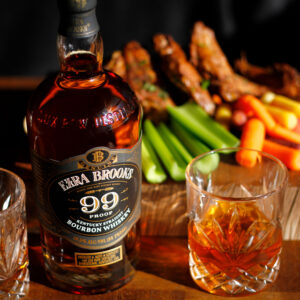 Football season is here, and no matter which team you root for, we can all agree that the best part of gameday is the food and drinks! From wings and nachos to ribs, chili, and tacos. Delicious gameday eats are endless and all equally mouthwatering.   
But let's not settle for any ol' gameday fare. Let's be smarter about our food and drink pairings and make this season the best one yet. Here's how to pair bourbon whiskey with your favorite gameday foods.    
Stick to the Hits 
A classic Kentucky Straight Bourbon Whiskey like Ezra Brooks 99 pairs perfectly with many staple gameday foods. The smooth, mellow finish with sweet-spicy notes works exceptionally well with salty, savory flavors.  
Consider this elevated-proof bourbon along with:  
Nachos

 

Loaded mac 'n cheese

 

Fries

 

Pizza

 

Your favorite cheeseball (an appetizer that's just as beloved in the South as bourbon!)

 

 
Consider mixing up a batch of Ezra Brooks bourbon lemonade (made with three parts lemonade to one part bourbon) ahead of time to make the pairing even better and not have to play bartender throughout the game.   
Break Out the Smoker and the Rye 
Ezra Brooks 99 Straight Rye Whiskey, with all its spiciness goes exceptionally well with smoked meats. So, if breaking out the smoker is your favorite gameday routine, consider pairing this 99-proof rye with: 
Smoked brisket or pulled pork sliders

 

Smoked brisket or pulled pork tacos

 

Ribs

 

Smoked chicken or turkey legs

 
Of course, don't forget about your sides. Smoked sweet corn or salty potato wedges go perfectly with just about any bourbon or whiskey. 
Serve it all up with a simple rye whiskey cocktail, like a Sazerac or a whiskey sour. 
Fatty and Full of Flavor 
Ezra Brooks Old Ezra 7 is a higher-proof whiskey with bold flavors that pair exceptionally well with fattier foods. The extra aging complements aged cheeses, ham, and even salmon.   
Consider Old Ezra 7 with gameday options like: 
Buffalo wings with blue cheese

 

Buffalo dip

 

Ham and Gouda sliders

 

Blackened salmon sliders

 
We recommend enjoying this award-winning whiskey straight, but we would never turn down a classic bourbon-based mule. 
Dessert Anyone? 
Spicy, smoky, and oaky, Ezra Brooks Old Ezra 7-Year Straight Rye Whiskey still remains mellow and oh-so-smooth — and it makes an excellent choice for serving alongside the sweet bites that will cap off your gameday feast.  
Consider these desserts with this awesome whiskey:  
Pecan or apple pie

 

Chocolate chip cookies

 

S'mores

 

Anything and everything chocolate

 
Serve this rye whiskey in a Manhattan cocktail for the ultimate pairing. 
Stock Up For the Season 
Whether or not your team wins this gameday, you can still be a winner when you pair Ezra Brooks bourbon and rye whiskeys with your favorite gameday foods. The first step? Stocking your bar cart to ensure you're always ready for kickoff.